It's well known that the valuable information contained on most PCs and servers is not adequately protected by a reliable back-up plan. By subscribing to Gatekeeper Back-Up services, you can take advantage of the best insurance available to protect your valuable data while avoiding the high cost of data recovery incurred should your physical media fail.
Gatekeeper partners with the cutting edge eFolder technology and data centers to provide the most convenient, secure and user friendly method of safekeeping your critical data.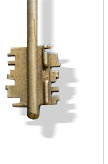 Gatekeeper Complete - this plan is perfect for active files and is fully compliant with both HIPAA and Sarbanes-Oxley requirements for privacy and protection.